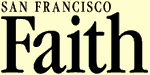 Drama of the Soul
SAN JOSE'S FLEDGLING
CATHOLIC THEATER COMPANY
By George Neumayr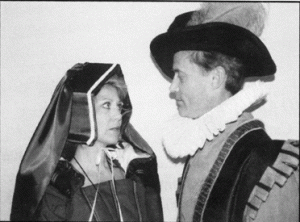 In 1995, Cathal Gallagher had completed a play about Cardinal Mindszenty, a Hungarian churchman imprisoned in the 1940s for opposing Communism. An Irish-born San Jose Catholic playwright, Gallagher assumed he could find a Catholic community theater to send his play. He was wrong: "I looked around for a Catholic community theater, not just a Catholic theater, but a Catholic community theater in San Francisco and Los Angeles and couldn't find one, then looked in the telephone book in Boston and New York and still couldn't find one…I was amazed because there are Jewish theater companies and various Christian theater companies. But no Catholic theater companies? I just couldn't figure that out."
The Pearl of York
Today, Gallagher knows of at least one Catholic community theater in America — his own. Gallagher, along with several other local Catholics dismayed by the poverty of Catholic culture in America, has founded the Quo Vadis Theatre Company in San Jose "to bring to the stage new plays about the saints and martyrs of Church history."
I think these are the kind of plays that inspire and ennoble the human spirit," says Gallagher, explaining the philosophy of his fledgling theater company. "I personally would like to think that when a young person goes to see a play or a movie that when they come out of there they would want to become a better person. I don't think that is happening in mainstream theater or Hollywood today. I think we have lost that battle.
"I am convinced young people emulate what they see on stage and screen. But what they see is Robocop 2 and Terminator 3 and there is nothing inspiring or ennobling about that kind of entertainment. As a Catholic theater company, that is a void we have to fill."
In the last two weeks of May, Quo Vadis made its first attempt to fill that void, performing "The Pearl of York," the story of Margaret Clitherow's martyrdom for hiding Jesuits in Elizabethan England. "What you see in her life is faith in operation," says Gallagher. "She did hide priests in her house, had masses, vespers and so on. And when the new law was passed which meant the death penalty if she continued doing this, she continued doing it… This woman gave up her life in order to save her soul."
The play, held at the Sunnyvale Community Theater in Sunnyvale, attracted considerable youth interest, says Gallagher: "The turnout was fabulous. There was a tremendous response. The theater held 200 and despite the fact that it was graduation time and Memorial weekend, we averaged about 115 per night on two nights…We had elementary schools. We had high school kids and junior college kids…And the manager was amazed that afterwards everybody wanted to talk about it.
"These kinds of plays are wonderful tools to inspire young people and encourage vocations….For those who are saying, 'Gee, what is happening to vocations,' I think this is one avenue to approach vocations, since kids actually came out on a holiday weekend to see a historical play."
Now Gallagher is considering plays about Thomas More, Thomas Becket, Oliver Plunkett, Father Damien and Joan of Arc. His hope is that Quo Vadis can solicit enough donations to perform these plays in a theater of its own.
"Our long range plan is actually to have a Quo Vadis theater in every community in America. That is a dream, but I think it is realizable. We think we have a great product and that no one else is doing this," says Gallagher. "Let us not waste our time protesting others. Broadway is not going our way. Neither is Hollywood. Let us go our own way."
September 1997